Post by EMPATHY on Dec 23, 2011 19:13:02 GMT 1
Please help us find Georgina Lynn DeJesus. Georgina was last seen on April 2, 2004 coming home from school.
Case Type: Endangered Missing
DOB: Feb 13, 1990
Sex: Female
Missing Date: Apr 2, 2004
Race: White/Hisp
Height: 5'1" (155 cm)
Weight: 135 lbs (61 kg)
Eye Color: Brown
Missing City: Cleveland
Missing State: OH
Hair Color: Brown
Missing Country: United States
Case Number: NCMC985783
Identifying Characteristics: Georgina's ears are pierced and she has a second piercing in the cartilage of her right ear. She has a birthmark on her right side of her chest. Georgina may go by the nickname Gina.
If you have any information about Georgina DeJesus, please contact
FBI Hotline: 888-660-5437
Cleveland Crimestoppers: 216-252-7463
Cleveland Police Department: 216-621-1234
I have been catching up with all the case requests here on the blogger and I see that there is a request to look at Tarot for Gina who disappeared in April 2004. Tarot can give us 'glimpses' of the situation which might sometimes help to put together pieces of the puzzle. Those glimpses are from past present and future and I have no idea which way they will come out but I will write what I see. Tarot is not 100 per cent accurate so please make sure you go to other factual sources to read.
The very first thing when I saw Gina's face was kindness. What a very sweet girl looking back at me. I hope her picture will help me to see via Tarot what may have occurred.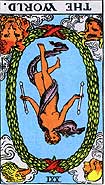 The first card I have is the world card and reversed is telling me how her world has fallen apart. Next to Judgement it appears to me that she made a bad decision. If I was truthful the whole scenario to do with Gina shows a lot of problems around her and she was stalked. I see problems in her family or to do with her family and some kind of 'interference' which I cannot place but certainly contrarities in family matters do show up here as part of the 'air' around her in her life.
This world reversed is often thought of as a travel card, there are other very obvious travel cards but this is one of them and when that is reversed you can see that she was stopped in her tracks as travel is delayed. If she was walking home from school then she must have been intercepted. I have a number 21 here which also relates to 30 those numbers can be split to make a 3. It may mean nothing at all but I mention that. The world is a nature card and earth is very connected to this card, greenery in places.
The Judgement card tells me that something that happened in the past or some decision made in the past has been the reason behind what happened to her that day. On the surface of it, it could be about anything, but I do see a stalker there and I see family matters too and it makes me wonder if it is connected in some way.
At some point, and I am not sure when, she might have lost some belongings, perhaps a bag or some other items. I am seeing someone here that is very abusive towards her, likely a male as there is abuse and tyranical behaviour in the set of cards that I see. Gina has been stopped on her journey - journey ended and there is a possibility of a car involved here and even possibly some sexual motivations.
Altogether having this world card reversed brings out the worst in the major arcana for Gina. The trends are not good and it is far from a nurturing situation that I see. Therefore I believe there are malicious intentions in what may have occurred to her on that day and not a case of feeling safe on that day. I may be wrong but that is the first impression that I have.
I feel as though she was betrayed and the disappointment is evident. I dont think of her as a foolish girl meaning that I get the impression that she is quite smart but perhaps she did not heed warnings and stepped into a situation that she did not expect. Perhaps that is where the betrayal comes in because she might have not taken precaution in a situation that she should have done.
So I feel she was led blindly into a situation and not realising it. The 'alteration' to her journey I dont think was anything to do with her because there is a fear on the World card reversed which tells me that there was something that made her not want to do something so perhaps she was forced but under a false sense of security.
I feel that there was no escape for her and it seems to me sins of the past are here which prevent Gina from going forward in life. I also seem to sense a 'sickness' or someone feeling or being sick or even someone who is ill.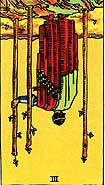 Normally the Wand is the South card for direction.
This is reversed however and might alter that first impression possibly indicating North West but South West might still figure. It is normally very hot and dry in this card but there may be some water elements attached because generally our man looks over the ocean in this card. I would feel that even if there were water elements she is away from the ocean more inland. Ash/ashes may come up here whether in name or some other reason.
I would feel that she is near property whether business property meaning on a business premises or buildings of some kind. Perhaps even sports fields/stadiums or somewhere that might be carried out could be in the vicinity or a place where a lot of action occurs but seeing feeling heat around the place.
But this is a fire card and the heat is in here as is the colour red. I feel she is still somewhere warm and wonder if perhaps she is still within the area . I could be wrong but I have such a feeling of delay in these cards and its a feeling of going nowhere not being able to do anything and I do seem to see a road that forks.
The impression I have is of her being concealed. I also feel perhaps a 'hill' in reality or name might be nearby and perhaps some distance away an airport. Fences/barriers all seem to come up here too. Perhaps a gated property/place? Im not sure if there was a 'trade off' with Gina but I see the possibility yet know perhaps it really is just a business or trade area that I see her?
I see the Four in the Four of Wands and that is the year that Gina vanished. Number 4 might be important but again number 3 too.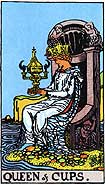 Tarot tells us that Gina will be found near/next to water perhaps the name of a place with water its very strong in the Queen of Cups. The Queen is a WEST card so I would have thought that West is where she will be found eventually or WEST as in name of route/street.
The Queen has number 13 on her which again might be a route or even a timing . If the area is not connected to water/river/stream/sea perhaps swimming pools though have no idea why or drinking and possibly music/poetry. Whether that has anything to do with names of places I am not sure but I see her in her home town or origin and that is where she should be found perhaps either 13 or 3 miles from home or connected to home in some way.
The 9 of cups could represent Kitchens/utensils and even possibly drains as a last resort.
Perhaps a lake might figure in the vicinity? I am linking in also an older female/mother/nurturing figure here who is very intuitive. I do feel if Gina is found it could be unexpected.
This is a very brief outline of the situation which I hope might be useful in some way. Tarot is not 100 per cent accurate and I always accept if some details are not fully accurate. However, I hope it might help.
Empathy.