Post by EMPATHY on Sept 25, 2012 21:44:26 GMT 1
Neese was last seen July 6 on surveillance video at her home at the James Place Apartments in Star City.
Police said they continue to follow up on leads for the missing 16-year-old.
If you have any information on the whereabouts of Neese you can contact Star City Police by calling them at 304-599-3550.
Please note that tarot will pick up TRENDS /VIBRATIONS of PAST PRESENT AND FUTURE - it will pick up anything that is 'out there' true news or false news - either way it can throw light on what is 'in the air' - please bear this in mind when you are reading the insights.
It is very important that 'readers' of the blog understand this, therefore one has to be very discerning when reading. Media news can put out stories that are not factual or are pre -mediated but Tarot can pick that up. It does,nt mean that tarot is wrong, it shows tarot can see what might be suggested. However when writing the tarot it may be taken as fact.
Tarot does not have all the answers or claim to solve issues. All it can do is show what it feels may be of USE or point out possibilities.
Please always read the following
empathysinsights.blogspot.co.uk/2012/04/about-tarot-on-this-site.html
which is a useful article in respect of all the Tarot printed for Missing people/children.
TAROT
CANNOT
BE CONSIDERED AS 100 PER CENT ACCURATE BY LAW.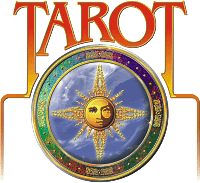 SKYLAR NEESE
25TH SEPTEMBER 2012
I have been asked to look at Tarot for Skylar Neese who is only 16 and disappeared in July.
I cannot promise to resolve the issue or tell you exactly where Skylar is but I offer the advice that Tarot gives on the issue and hope that something helps. Please read all the notes on the blogger so that you understand how it works and also refer always to facts via concrete sources. Tarot always looks at past present and future trends and I write down what I receive. Hopefully something will assist.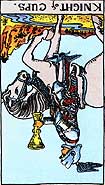 The first thing I am picking up is the travel card. Note it is reversed. Firstly this card would be describing a friend and falls directly in line with what is reported and a vehicle. This vehicle can be a car or motorcycle but in general is just classified as travel. When I write Tarot I am not here to judge I am just writing what I see and verification of that comes at a later date. If its wrong then its wrong but what I see here is a friend, lover or someone Skylar knows the number on this card is 12 and it suggests a West direction or name. This number could break down to number 3 or it could reflect number 21.
Meanwhile we have this vehicle here and there are suggestions of being with friends but when this card is reversed I am not sure what to feel. Firstly it can show that it is someone who Skylar is friends with but when you reverse that it can also show friendliness but with a deceptive element about it. The knight can show a lover or a male. who is love and leave them type it can also show someone we know and want to confide in but the negativity seems to be there somehow. It seems that this card takes us to a lake or out with friends or people but that we should have checked with a third party. So I am seeing this car 'stop'.
If Skylar had a love interest then I would have thought this would not be approved off. There is an immaturity here that I cant put my finger on. It seems to me that if anyone was covering for Skylar it is not a good idea. I also see some problems with homelife. That is not negative towards family, it is just that I see something that makes me feel that Skylar was unsettled in some way. Was she interested in someone a male? I see a very kind of immature love here.
If something was suggested to her then I think this was certainly NOT a good idea. Has someone been drinking here? I feel like someone got into trouble and was told off by parents for something. I do see something being opposed to like if you go out and you shouldnt you get told off. I might be wrong and it could be that the company was not to be trusted.
I have no idea of time scale on this. What I see is a West Direction but Im looking more North West sometimes this can reverse itself to South West but I will give descriptions as we can then see on a map. The key here is Water, so any landscape or names of places that might sound or link to fishponds, rivers, springs, watermills, water pumps, wells, marshy or watery ground, moats, springs, the ocean may come up. This also goes for places in and around the house that link to water. This card also links to church elements or holy places and places that might be deserted or secluded. This card talks about water retention and drowning can come up in these cards depending on the question, but so can drinking and drug taking.
I do not see contact with parents at a point that there should be or that is a point to ponder on because the page of cups is reversed and seems to suggest something is not right with family contact. I cannot speculate I can only write things down and let others do that. I also really feel a lot of water/liquid very strongly. Sometimes unwanted pregnancies can come up in these cards. The possibility is there but this cannot be considered as a definate conclusion.
A white bridge, an M or W and the word Bell might show up as well as tree name. An opportunity came up and someone took it. A sweet smell.
Thursday comes up and again church links. Possible court links?
I see someone plump with a fair complexion. Someone might have a skin disorder.
A journey to a lake? boats? or container?
I want to mention a person with Hazel eyes and fair hair here. I am not sure if this is Skylar herself? But I have a North West direction and also descriptions that may be somewhere in the area or may describe place names. Some aspects may repeat and if that is the case then it is worth considering them. Here we have deep wells, quarries, mines and land that has recently been dug.
Places high up, hills, or land that is uneven perhaps airports? , I also see a roof, attic rooms, or perhaps somewhere in the upper part of a house.
The water elements come in here and fountains or springs, vineyards, or anywhere there is water in a house or where there are power supplies.
There may be a connection to 'mother', a bird, canal or/spring? Something happened in the past tense.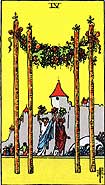 This card might suggest the blossoming of a friendship or a romance but when I see this card note the white bridge again, it looks like either a motel or someones home. Also something possibly about packing boxes. This card is also showing me a male who is virile and sporty and strong. I have South in this card and sports links so maybe there are sports venues in the vicinity like playing fields, or football fields etc. I will have another look at the landscape. First though we have a four here.
I am seeing possible water and boats in the vicinity and someone has a new home? or this is a family home. I just seem to have a homecoming and a reunion here so if this girl is still missing I am not sure why I am receiving this card unless its a new home or figures in another way.
I have someone here who might have a red complexion or red in their hair. The person might be tanned. They would have a lean body, long neck, large bones not particularly tall but strong. Might be bald or have thin hair. Direction of East or name East might come up as does sandy or hill ground, gravel, tarmac, perhaps airport in the distance, a construction worker or where construction is taking place. Sheep and cattle or stables/small animals connected to land or land where you would find them or names of places including these names. Someone who is hiding a criminal element here because the place I see nobody goes there much. If in a house I am thinking about ceilings attics all the bricks and mortar to build a house. I also see fire and heat.
Sandy and hilly ground, newly built land or where construction work is taking place. Land where sheep and small cattle feed or stables for small animals. Unfrequented places where criminals find refuge. In houses - the ceiling, plastering or covering of the house. Brick foundaries. As a fire sign Aries can indicate places near fire or sources of heat.
Possible burns and scars or pimples?
Colours red and yellow.
Fireplaces, chimneys, also come up under this card also shops and furnaces.
A person described as middle stature, with big bones, a strong body not fat but strong looking, brown ruddy or high colour complexion red or sandy or dark blonde hair, curly or some waves in it. Sharp hazel piercing eyes. Bold personality not likely to say anything but keep their head down if asked anything. A fast car? Sex and weapons can come up on these cards so can a trip to somewhere and text or phone messages or some kind of message, news, letter etc.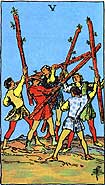 Im picking up South here. There are five people here and all the elements of 'mind games' or really sporting activity. Possible quarrels could be signified. There seem to be disputes and complications about finding this girl. Number 5 is on this card and usually wands are considered to be weeks but it could be a 5 for another reason linked to finding her. A route, an amount of people etc. This 5 also links to the church elements through the Heirophant and I think two people hold the key to this answer about when this girl can be found. Again Im prepared to be wrong but there is good advice out there apparently its just whether anyone listens to it.
As this card signifies a happy ending as such, I am sure this girl will be found, but someone might lose their temper about things . The colour red comes up here.
South is in this card but North East might show up. I am seeing someone here who is very similar to the other description. Someone with large round head, prominent eyes, strong and active body, largish, fair or sandy or bit of red in the hair with possibly a curl. Someone who either has or had thick hair but by the same token I am getting thinning hair or baldness? Either an angry person or red in their face. Is someone embarrassed ?
Yellow and Red gold colours come up. I am seeing places that are linked with royal names such as Prince, Princess, Queen King, that kind of thing but also the following references. Theatres, lavish buildings, monuments, public halls and auditoriums parks, palaces castles or forts or names that reflect that. Halls and dining rooms also Places hard to get to like deserts, forests and places were there are wild animals roaming. If near buildings or inside, chimney and heat sources come up and brickwork, construction? Is there someone called Michael?
There will be some kind of public announcement linked to 5? some form of red tape here?
This is a very scant and brief overview of Tarot for Skylar due to the workload pending but hopefully something might help. I will read it through and ask Dee if she could look at a map so please come back and check to see if one is posted. Tarot cannot promise to deliver every detail but there might be a clue here that could assist. I will add to this Tarot when I get time to re read and if anything comes up that I feel is important and I have left out. Meanwhile I think Tarot at least confirms that Skylar will be found. I do not comment on health matters but I do feel at least that she will be found within the 5 which could be weeks from Tarot or may indeed be another type of timing such as months etc.
Empathy.